Website Designs for Law Firms & Attorneys
Why Update Your Law Firm Website?
If you're an attorney chance are you spend a better share of your time and resources into advertising your law practice on 3rd party websites however by doing so, it leaves you forever in their grip for costly leads that your website could be generating for you naturally and best of all, for free.
The other area to consider is how often these 3rd party websites are directing traffic to your website instead of phone call leads. If a good portion of your lead generation is in the form of clicks to your website and that site is under-performing both in visual appeal and layout, you will lose a good deal of those leads right from the start.
Unless the visitor already knows you as an attorney and the reputation you have for getting results, they will certainly be judging you based on online reviews and website appearance. By offering visitors to your website complete information on you, your areas of practice and providing them with eye-appealing page designs, you have a much greater chance they will take it a step further by making contact with you by phone or email.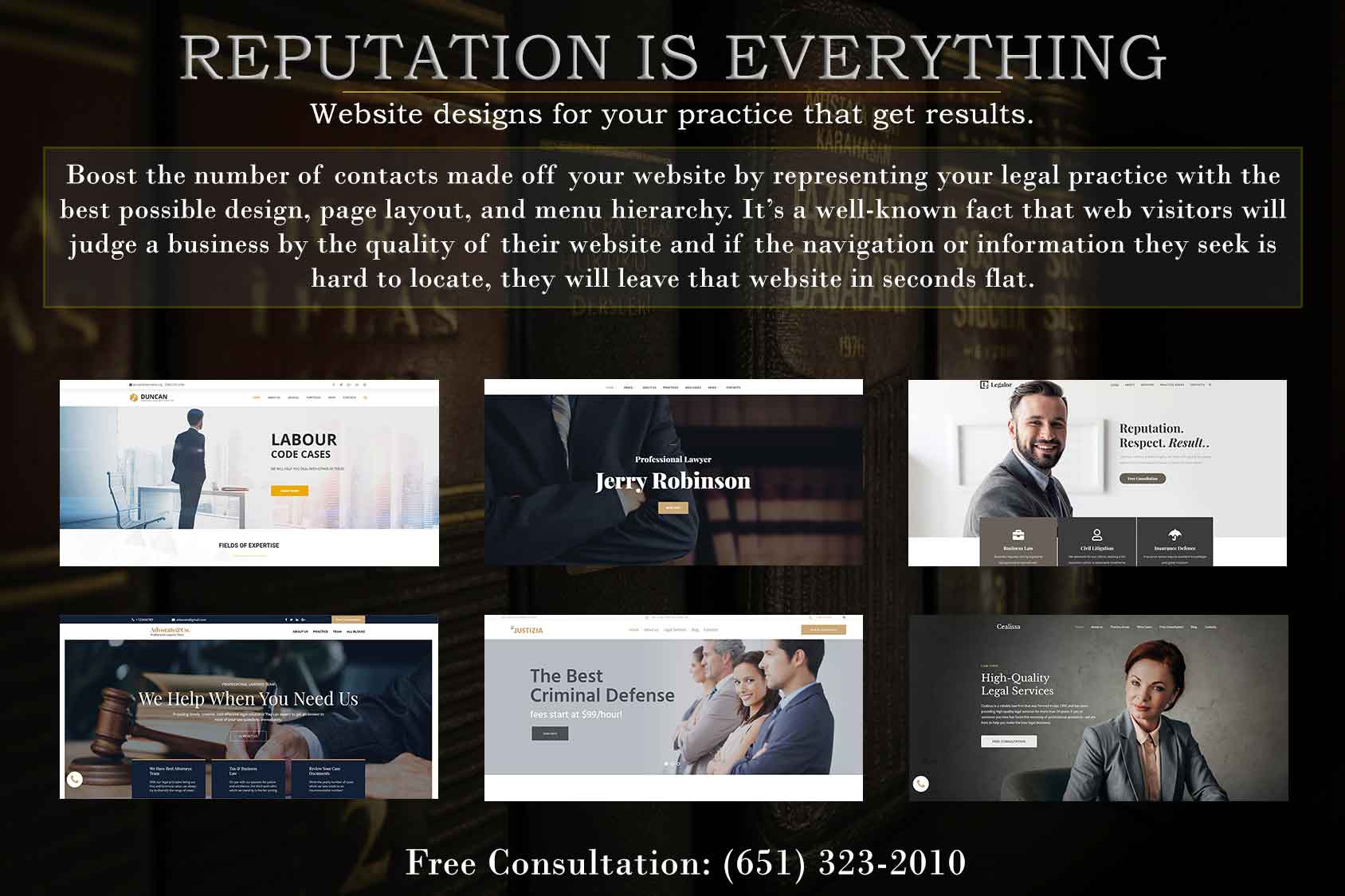 In this article, we will showcase a few website designs that are tailored around the needs attorneys and law firms have when searching for a new website design for their legal practice. Having worked for legal professionals both large and small, we understand there is no one-size-fits-all approach to meeting the needs of you and your core practice areas which is why we design each website based on the needs of the attorney or firm in question and can utilize an array of features to help you make the most of the visitors who land on your website.
Spend a little time reviewing some of these designs, the features that can be included and check out our portfolio and reviews and should you be in the market for a website refresh, give us a call for a free consultation to learn more about how we can move you forward in this digital market with higher conversion rates and a great return on your investment.
---
Law Firm Website Design – 1
Features:
Strategically placed call to action buttons for consultation requests.

In-page floating phone icon allowing for link-touch calling on mobile.

In-page menu that floats as page scrolls for easy navigation.

Blog integration for posting firm news, past cases or other legal based articles.
This attorney-based website design offers stunning entrance visuals with simplistic call to action text. The main menu loads with transparent background however should the visitor scroll down the page, the menu follows, and background changes to a solid color to help draw attention to important pages within the site.
The in-page floating phone icon can be configured to allow those on mobile phones a simple way to make contact. Clicking the phone icon opens a small side-window with basic greeting text and hyperlinked phone number.
The legal themed design incorporates a level of professionalism above the rest and can be tailored to work for those reaching out to a private or corporate client base.
---
Law Firm Website Design
– 2
Features:
Convenient placement of business phone, email and button linked to a request consultation form located at the top of page.

In-page floating phone icon allowing for link-touch calling on mobile.

Adjustable menu that can be configured to float in-page or remain at the top while visitor scrolls.

Simplified form allows visits a quick way to request a consultation giving you the ability to make the call when it is best for you.

Attorney profiles and pages offering visitors a more personal view of your team and what areas they specialize in.

As with any of our design work, coloring can be customized to your company colors, logo or personal requests. For this design, the primary color used was in the navy-blue spectrum which studies have shown to have a psychological effect on viewers and helps portray trust in a business or product.
The design maintained a clean, crisp page format and crucial content was placed in key locations with attention grabbing headings and other call to action text. The site included contact forms, consultation forms and a well laid out blog for easy navigation between articles and other website pages.
---
Law Firm Website Design – 3
Features:
Menu and logo on transparent background to give a visually clean entry to the website.

Above-fold practice area boxes give visitors an immediate view to your areas of expertise.

Optional newsletter opt-in for visitors that gathers email address for your mailing list.

Subtle motion effects to draw visitor attention to specific areas of the page.
One key aspect to our designs is utilizing professional quality imagery to help pull together the various aspects to the websites design. Often, our client's do not have the best quality images and may ask us to provide licensed imagery for them to use. We happily do so and can work with you to find the perfect images for sliders, pages, PDF documents or presentations.
This design included professional imagery that complimented the page and location in question. When working with clients in the legal field, we understand imagery should not become the focus and draw attention from the verbiage to the picture but rather help tell the story found within the content.
---
Why Website Wizards?
As an attorney, having a website that conveys your areas of practice can be a crucial step to ensuring visitors on your website end up making contact versus leaving the page and finding one of your competitors. In this video, we will showcase a few designs that are sure to please and include many popular features requested by past clients.
We are sure our designs, experience, reviews and work ethic will convince you that Website Wizards is a clear choice for your next Attorney or law firm website project. Give us a call to learn more and schedule a hassle-free consultation.